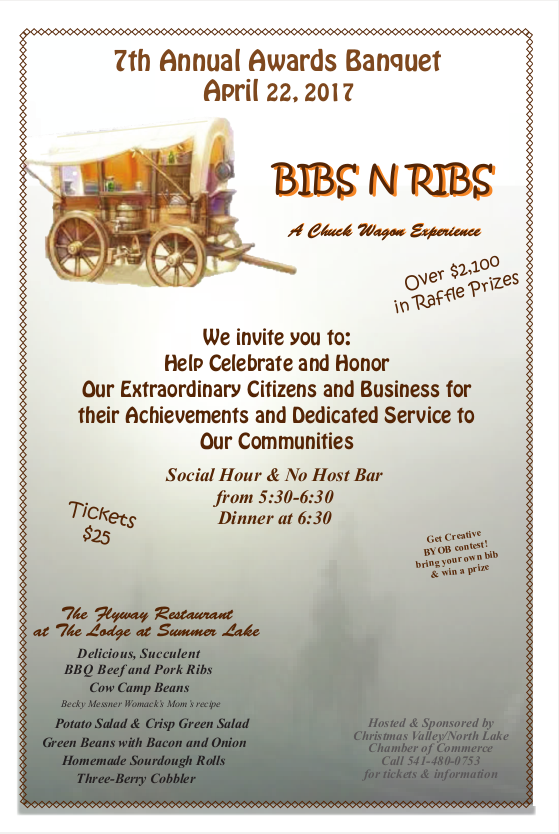 For many years the Chamber has worked with business owners, community leaders, educators and first responders to identify and honor exceptional individuals from throughout North Lake County at their annual awards banquet.
On April 22, 2017 the Chamber will be honoring community members and businesses for their exemplary service to our communities. The event will be held at the Flyway Restaurant at the Lodge at Summer Lake and will feature a menu in keeping with a cow-camp chuck wagon.
Beginning at 5:30pm with a no-host bar and social hour followed by the opening of the Chuck Wagon buffet at 6:30pm. We will be offering BBQ Beef and Pork Ribs, potato and green salad, Cow Camp beans, sour dough rolls, green beans with bacon and onion and a three-berry cobbler.
The cost per guest is $25. This event is well attended so please commit as early as possible. If you have special dietary needs let us know and we will do our best to accommodate them.
In addition to awards presentations and a keynote presentation; and thanks to the generosity of our business community, we will once again have a fabulous array of raffle gifts. Everything from a slice of pie and cup of coffee a month, to two - two nights lodging: One from the Lodge at Summer Lake and one from the Summer Lake Hot Springs. All in all the raffle gifts value rounds out at just over $2000.